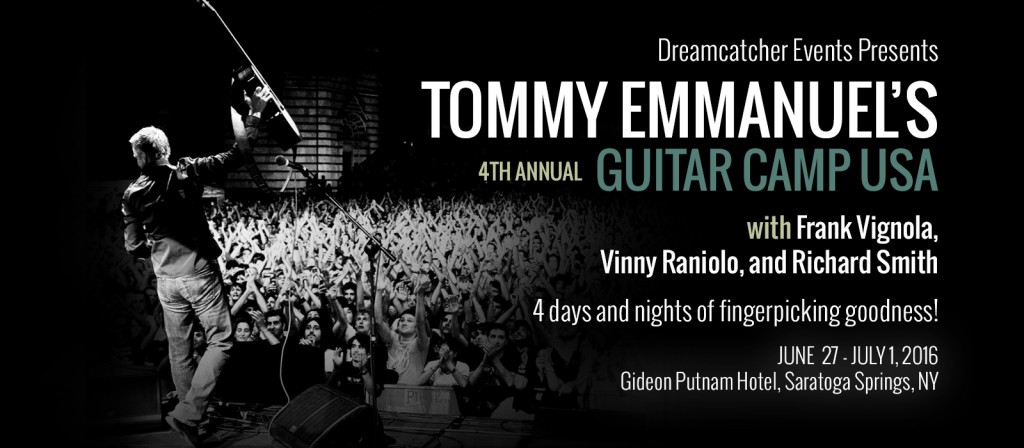 I am so thrilled that you will be joining me for the "Tommy Emmanuel Guitar Camp USA" in Saratoga Springs, NY. We are going to learn a lot together and have some fun together. At the beginning of each day, we're going to start off with one big group session with all of you and me. After that, we are going to break up into different groups and mix up your skill levels.

We've added one on one mentoring sessions with Frank Vignola, Vinny Raniolo, Richard Smith, and me. Each session will be 15 minutes long, and is limited to one session per student. You can ask us anything about business, work, the guitar, etc. or we can work on a song together…it's your choice and your session.

On a daily basis, I will be answering all questions, demonstrating how to play a lot of my songs, talk about arrangements, repertoire, performance, preparation, practice, and discipline. We will cover tone, touch, dynamics, time, feel, groove, tunings, mind training, equipment, and all heart-related playing! I will invite students to play duets and demonstrate how to play together well.

Some of the subjects covered by the instructors will include rhythm playing, importance of melody, dynamics, building a vocabulary, exercises, right and left hand strength and agility, stretching, jazz and blues improvisation, single-line soloing, creating songs, open tunings, using a capo, using software for composing, getting your name out there, getting your SHOW together, working with other musicians, building an audience, and having fun while working hard!
They'll also cover the important how to's…how to jam well, how to listen, and how to train your ears. All the instructors want the students to learn at least a song per day, so you leave with new material to work on.

We are all looking forward to making this a truly memorable camp… see you there!

-TE
To see the full schedule and to find out more information about Tommy Emmanuel's Great Guitar Escape Saratoga Springs, visit www.tommyemmanuelguitarcampusa.com!